---
What is Lactose intolerance?
Understanding and Managing Lactose Intolerance: Symptoms, Causes, and Treatment Options
---
---
Lactose intolerance is a condition in which the body is unable to digest lactose, a type of sugar found in milk and other dairy products. Lactose intolerance occurs when the small intestine does not produce enough lactase, an enzyme that breaks down lactose into glucose and galactose, which can be absorbed into the bloodstream.
Without enough lactase, lactose remains in the digestive system and can ferment, causing symptoms such as bloating, gas, abdominal pain, and diarrhea. Lactose intolerance is a common condition that affects people of all ages and ethnicities, but it is more common in certain populations, such as people of African, Asian, or Hispanic descent.
While lactose intolerance cannot be cured, it can be managed by avoiding or limiting dairy products, taking lactase supplements, or choosing lactose-free dairy products.
How to manage Lactose intolerance?
Lactose intolerance is a common condition that occurs when the body cannot digest lactose, a type of sugar found in milk and dairy products. It can cause a range of symptoms, including bloating, gas, diarrhea, and abdominal pain. Here are some ways to manage lactose intolerance:
Avoid dairy products: The simplest way to manage lactose intolerance is to avoid dairy products altogether. There are many lactose-free or low-lactose alternatives available, such as lactose-free milk, cheese, and yogurt.

Choose dairy products wisely: Some dairy products are naturally lower in lactose, such as hard cheeses, butter, and cream. You can also try lactase-treated dairy products, which have the lactose already broken down. However, these products may still cause symptoms in some people.

Try lactase supplements: Lactase supplements are available over-the-counter and can help break down lactose in the body. They are most effective when taken just before eating a lactose-containing meal or snack.

Experiment with plant-based milk and dairy alternatives: Many plant-based milk and dairy alternatives, such as soy milk, almond milk, and coconut milk, are naturally lactose-free. You can also try plant-based cheese and yogurt alternatives.

Be aware of hidden sources of lactose: Lactose can be found in many processed foods, such as bread, cereal, and salad dressings. Be sure to check labels for lactose-containing ingredients and avoid them if possible.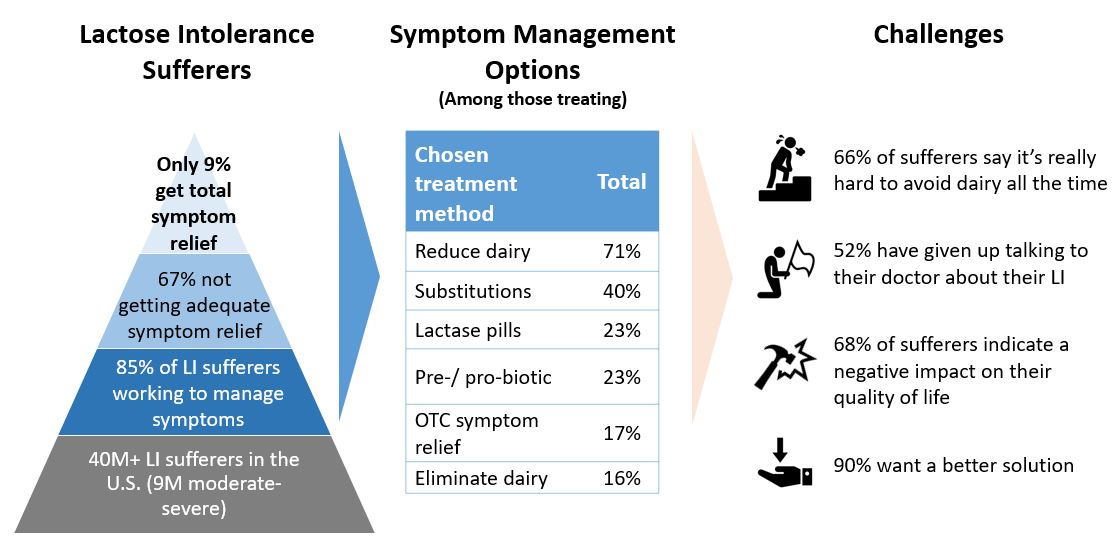 It's important to note that lactose intolerance is a personal condition, and what works for one person may not work for another. Experiment with different strategies to find what works best for you. If your symptoms persist despite these measures, talk to your doctor or a registered dietitian for further guidance.
---